Which features you should have in your Online Research Panel?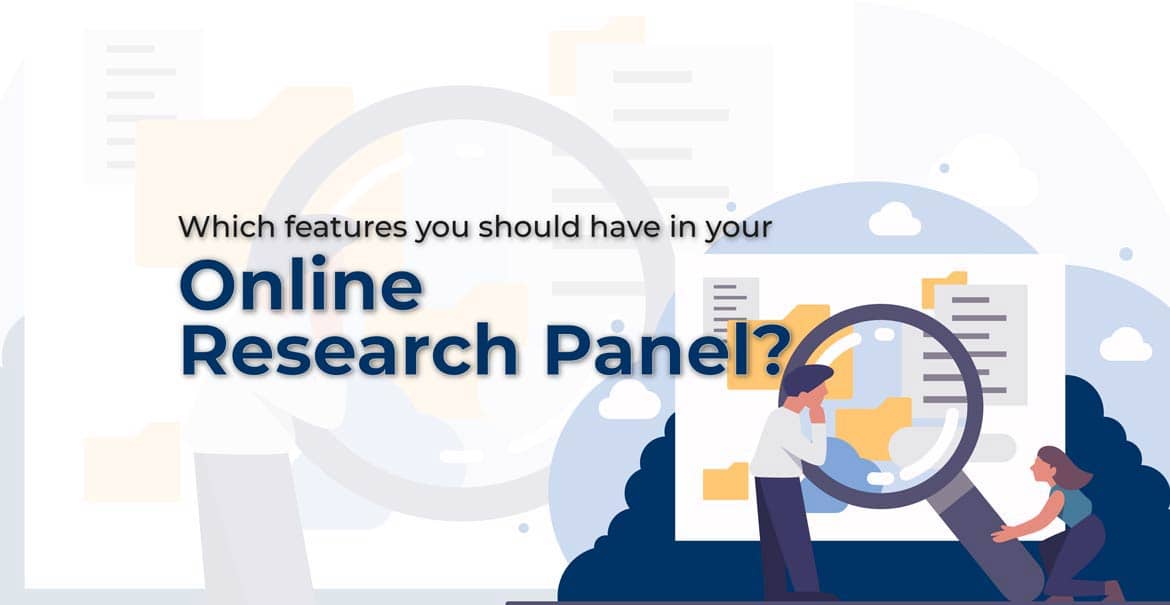 There are many ways to present the panel platform, but the broadest sense is that market researchers can categorize it into three aspects: B2B, B2C, and online health / medical research panels. In today's market era, they face so much pressure that they are forced to invest a lot of time to keep ahead of the game. Some businesses have plans for a lot of products, but they're all on the back burner because they need to change the actions of people who may be selling the goods.
Choose the market analysis tools that you need, including:
Survey Translations

Tracker Management

Survey Programming

Survey Reporting
CONFUSED???   

How to assess what functionality should be applied to your Online  Panel Platform? 
To make it best and smartest choice first you need to learn how to implement by customizing the online Panel Management Software comes with many features:
Sample better: As filters used in the survey, you should be able to enter thousands of respondents immediately and do not need to waste any time validating them. Leaders of the online panel of research address questions on profiling during recruiting. Such panelists are pre-profiled.
Get a hire completion rate: This retention rate reflects the average as the number of respondents who complete a sample of the prospective respondent approached. Use the platform to identify the highest response events. Many of them often rely on the rewards they get and some of them take part in the survey very proactively because they are more likely to respond to their thoughts, perceptions and input.
Reduce Cost: Online research is a practice of saving money and time. You don't have to expend money to collect the respondent's answers or not to spend time as the whole collection is on the online research panel. You just need to choose the right respondent to capture the data that will be of value to your company. You can hit the answer easily and handle it immediately at the same time. This survey can be tracked in real-time, greatly lowering costs.
Time-Saving: These research projects can be measured in real-time by creating a panel that will take part in the study without rushing to the second wave of research. It delivers research and analysis within a shorter period. The company will conduct several surveys of respondents at the same time and expect the participants to respond simultaneously. Such variables help the company to respond rapidly to the results.
Track studies on the go: The survey questionnaires are always deployed on an online platform. The aim of the "Study Panel" is to track data in real-time, in the form of ongoing observations, to detect patterns and similarities, spikes and dips. With continued progress in market research, a review is now initiated. Strategically, it's time and smart decision making.
Gathered deep level insights: By repeated encounters between researchers and respondents, they share a positive partnership in which respondents engage proactively in the study. Yet make their comments freely based on experience yet aspirations.
"Internet surveys and research panels go along like — well, milk and cookies. If both of them are high-quality, yummy snacks. If either is of poor quality, the experience is ruined."
This is an important piece of homework before buying the Panel Management Software since panel content and features differ a lot. You can't say that all research panels are the same.
Online Panel Management Software

Multiple registrations and invitation options

Double Opt-in

Advanced member panel management

Creating targeted segments

Report / Analyze

Communication workflow

Complete branding opportunities
Online Panel Management Software: Can be used to gather market information with a few mouse clicks and keystrokes, such as: Keyword search, Competitors Links, Read Blogs, Conduct online surveys, etc.
Multiple registrations and invitation options: It allows you to reach the maximum number of audience who can register themselves by multiple choices. You can send the invitation to the targeted audiences by sharing the email or mobile app link.
Double Opt-in:  It occurs if a user signs up for a mailing list for the newsletter and gives the user a newsletter with a click-link and the subscription confirmation. By using a double opt-in confirmation method, the chances of spam addresses in the deployment list will be greatly reduced.
Advanced member panel management. By Simple Survey, you can handle research projects in your community more intelligently. The platform for panel management helps you to hire participants from the community groups to perform detailed research and achieve a better outcome and meaningful input.
Creating targeted segments: Market segmentation and targeting refer to the process by which potential customers can be identified, the customers chose and value generated for their targeted customers. The segmentation, targeting and positioning (STP) processes are used.
Report / Analyze. To order to predict population values correctly, researchers should avoid nonprobability online tables. Taking the reports as a guide to understanding the needs and feelings of the audience and assess potential business development. Profits can be managed by researchers.
Communication workflow. A properly articulated workflow method is a series of sequential tasks performed to execute a business process based on user-defined rules or conditions. It is a set of data, rules and tasks to achieve a certain business result.
Complete branding options: Common objectives of the brand strategy include building brand recognition, maintaining current customers and growing sales — just to name a few. Brand tracking tools allow you to measure important marketing metrics and help you understand the effectiveness of your campaign. Give people a personalized survey experience that remains true to your brand.