6 Tips that will help to Improve Online Surveys
In this competitive business world having a business plan in advance for a specific period is vital for any business or corporation. To make such plans effectively a lot of information is gathered and analyzed by various teams. In an attempt to gather this data just like offline paper-based surveys, an online survey is also a Sampling Data Collection Tool however considered more efficient and very less time consuming too.
Most of the time, it is a simple questionnaire directly related to the business. It can be equipped with point scaling tables through which candidates attempting these surveys can express their thoughts or views in a much more effective manner. Following proper procedures while making and conducting an online survey can result in the creation of better business plans.

In this article, we are going to talk about a few steps that will help you to Improve Online Surveys drastically. So, make sure to implement them in your next Survey Model and experience the better rate of responses.



How are Online Surveys useful?
Online Surveys are beneficial for achieving the goal of utilizing business resources in the best possible manner. These are very helpful for an Industry where the slope between opportunities and risks is pretty dynamic. Proper Online Survey Management offers a plethora of economical advantages and here are some of the many benefits it offers:
• Cost-efficiency & Saves Time:
Making a plan in advance requires a lot of resources and a ton of research. And, it is understood that the time invested in making these plans is enormous. Thus, with the help of accurate customer response through an online survey, both time and the cost incurred in preparing a plan is reduced.
• Reach & Scalability:
Online Survey Tools can help the managers of an enterprise to get an idea about the reach of services and products that are manufactured by their brand. Also, the optimum scale at which they should be implementing the manufacturing cycle can be determined from it. It saves the hassle caused by the creation of excess finished products, which might incur damages while storing.
• Insight of Brand's Online Presence:
Having an idea about your firm's reach in the market, among the public, and on online forums is quite essential. It helps in making effective advertisement policies and having a fabulous online presence of your brand can help the management to use it for its promotion as well.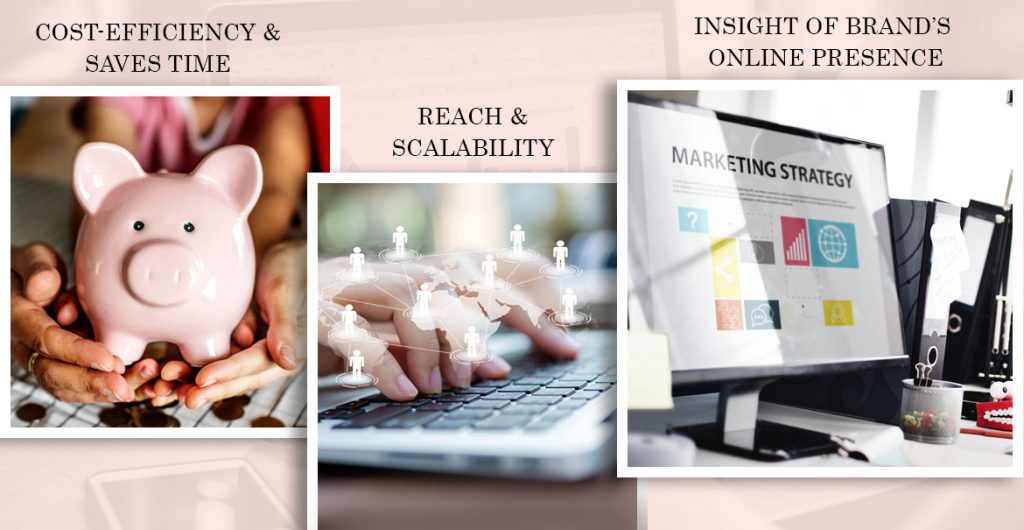 • Convenient Data Gathering:
Gathering data may require a significant amount of funds. This is because many people are needed to work simultaneously on a project. But with the help of Survey Management Tools, this data can be gathered in a much clear and accurate manner.
• Faster Data Analysis:
Unlike offline survey method, Online Surveys offer a much faster rate of data analysis. There are several Online Survey Tools that you can use to get precise and quick outcomes.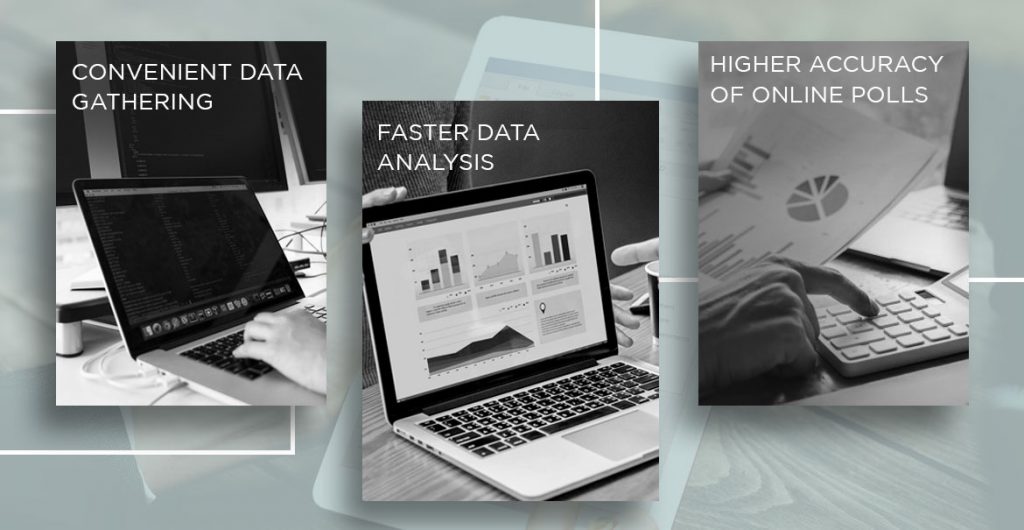 • Higher Accuracy of Online Polls:
Online Surveys offer comprehensive benefits as they provide polls from public quickly efficiently. Online polls are a great way to collect feedback and reviews of your customers.
• Easy to use for Participants & Researchers:
In an Online survey, an internet-accessible device such as mobile or laptop, and Internet connection is required at most. So, it is easy for the participants to fill the survey anywhere they feel comfortable. As the data is already digitalized, researchers will not have to waste time to upload it on the servers.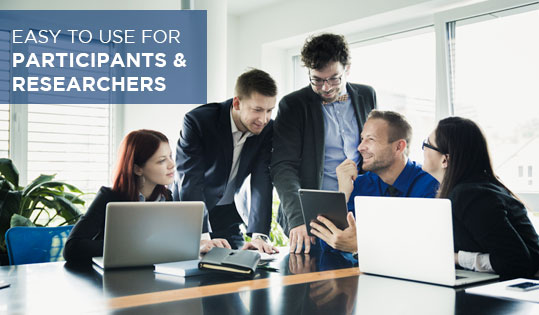 How to Improve Online Surveys?
Despite the fact that Online Survey Tools are far more productive as compared to its offline form, it takes quite an effort to conduct a standard online survey. Only an effective survey can offer you a better quality of data and responsive rates. So, now we are going to discuss the six steps that we found to be amazingly effective when the aim was to improve the quality of the online survey. Although the results that we get from these Digital Surveys are pretty accurate, there is always a room for improvement. So, to obtain perfect participants' reviews, you can implement these steps to get the ideal results that you aim for. Each of these steps will offer a much-refined result of an online survey.
• Clearly define the Purpose of the Survey:
It is always the best option to first identify the actual purpose of the survey than to run on a wild chase. Having a clear picture in your mind about certain factors will eventually lead to the creation of a much better online survey. Here are some of the factors that you should conclude first-hand as it will help you in defining the purpose of the survey:

o Are you looking for feedback about a specific product or is it about the feedback of the brand itself?
o What is the nature of the survey? Does it require the participants to answer in a general manner, or is it about something where the participant needs to respond in a particular way?
o Is the survey oriented towards a particular specific set of people, or will this be sent out to the public in general?
• Keep shorten or Simple Questionnaire:
Language plays a vital role in a result that you get out of a survey. So, the questionnaire for a survey should carry questions that are simple and easy to understand. And it becomes more important if you are sharing the survey with the general public. This would also judge the online survey management skills of an individual who is framing questions.
So, here are some suggestions as what you should avoid while making a better questionnaire:

o Avoid the usage of Acronyms
o Keep the tone of the question specific
o Don't use Jargons
o Keep the questions as direct as possible

• Offer an Incentive:
Nothing will make a person motivated more than having a prize at the end of a survey. It is usually found that free surveys do not get a precise response. The reason is quite evident as not many people have spare time to go through a questionnaire without any motivation and thus, they may end up answering it with the least efforts or interest.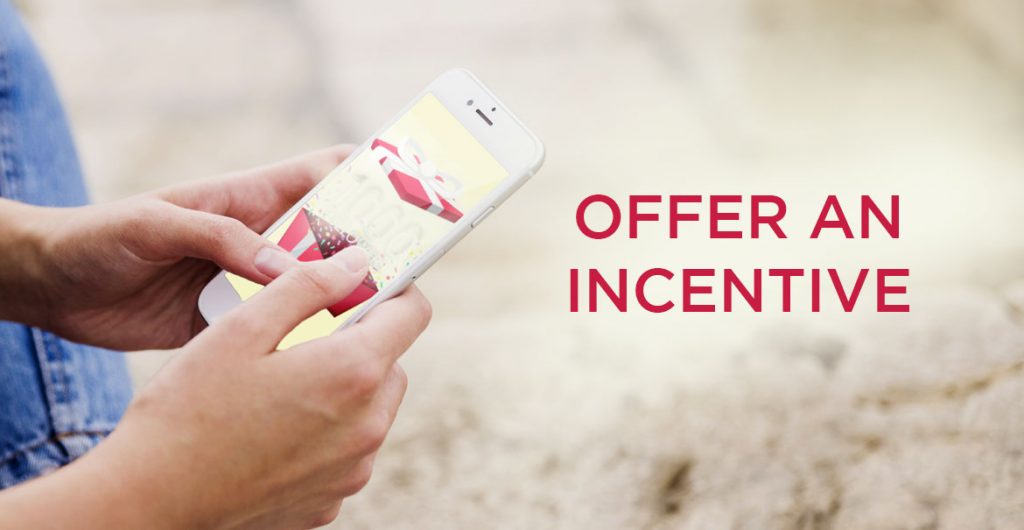 But, the presence of an incentive cheers them up. These incentives can be offered in the form of anything from gift coupons, online discount codes, wallet cash, etc. Doing this will boost your Online Survey Response Rates somewhere between 40 to 50%.

• Send email notifications to get a High Response Rate:
It is pretty possible that the participants do not fill the survey for not receiving any information about it. So, it is always recommended to send them in advance an email notification with some important details about your survey. Following are some of the factors that you can include in your email to get the participants' interest immediately:

o Mention the purpose of survey in as minimal and straightforward terms as possible.
o Tell your participant the incentive they may win after successful submission of this online survey.
o Make sure to convey all the guidelines to participants while answering the questionnaire.

• Learn to use Open-source Survey Tools:
Creation and management of Online Surveys are not as easy and straightforward as one might think. You need to make the questionnaire, build a format, and create proper ranking systems and many other things. If done manually, it is a very rigorous task and takes quite an amount of time to get it done correctly. But, with the help of Open-source Online Survey Tools, all this can be done pretty quickly in a very hassle-free manner. These survey tools are available both in their paid and free version. However, several firms also offer such tools & services. So, look for the best option as per your priorities and budget.
*Use Online Survey Collectors:
Just like there are useful open-source survey management tools, Online Survey Collectors also aid to make survey much easier and helpful. A Survey Collector Program is an algorithm that gathers the participants' responses, sorts them in a sophisticated manner, and makes it easy for the management to read the data straightforwardly.
Conclusion
---

An Online Survey if conducted suitably is one of the most efficient and quickest ways to collect vital information for any business. So, make sure to consider all the factors as mentioned above to make your online survey even more useful. Using these survey tools might look like an unnecessary investment initially but they add a considerable amount of ease in their creation and the collection of responses from participants as well. So, go ahead with these tips to get the best out of your Online Survey campaign.