Returning To The Workplace During COVID- An Overwhelming Experience
Returning To The Workplace During Covid- An Overwhelming Experience For Many
If you are feeling overwhelmed about returning to your workplace, you are not alone. After more than a year of work from home, many people are agitated to shift to a new normal again. It doesn't mean that you're weak or incapable of dealing with your emotions. These types of shifts cause us anxiety for a variety of reasons. And, since the Covid landscape is still in flux, it's hard to feel sure about how long the "return to normal" will last.
The reasons behind the Return-to-Work Anxiety
Anxiety is an emotion about a distant, potentially undesirable outcome that is uncertain and unpredictable. It is longer-lasting than fear, more future-oriented than present-oriented fear.
We've been living in pretty uncertain times, so it's understandable if you're nervous about yet another change: returning to work. There can be numerous reasons for feeling overwhelmed or stressed about going back to the office and working in an in-person environment. However, the most prevalent causes are health and safety, changes in social relationships and boundaries, and being away from home's comfort zone as disruption to your daily routine can feel daunting.
Working from home does have advantages in flexibility for employees, but it removes some of the key advantages of the workplace and offices which brings people together and makes the work more effective and efficient.
Rebuilding social connections
It has been a while, but do you recall running into coworkers in the hallway and catching up on weekend plans or a project you are working on. But most people like us do not realize how important these chats were until we started working from home. Many psychological pieces of research have proved that friendship, cooperation, and collegiality are crucial for efficiency and successful work. That is what reopening the offices will give you back. It is going to help us build our weakened social connections again and work more efficiently.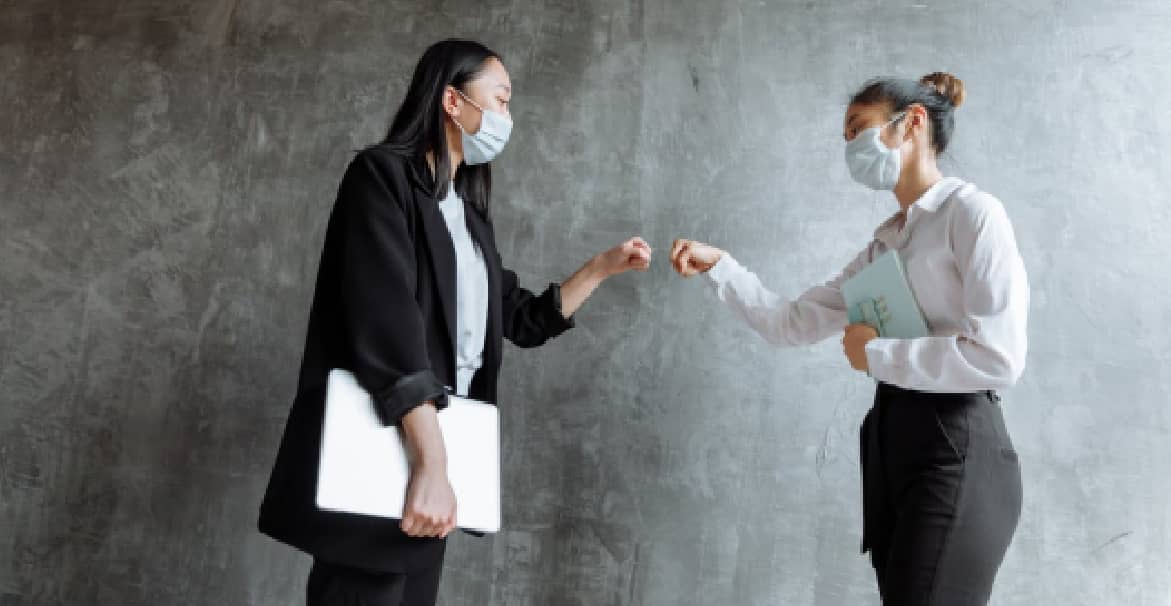 Separate Work and Home Life
Working from home might be comfortable in many ways but, it just wiped the boundary between work and home life. As working from home became the new normal, employees realized that working from home quickly converted to be available at all times. Some people are ready to get back to normal, particularly if they have been caring for children at home during work hours and are missing adult stimulation and regularity. The majority of people say they want a hybrid work style in the future, such as three days in the office and two days at home.
Less Distraction and Increased Productivity
Distractions abound when working from home. Children running around the home, seniors watching the news at full blast, the pressure cooker whistle, and so on. And when there are distractions, the work efficiency decreases.  Hence, coming back to offices, employees can avoid the many potential distractions at home, focus on their work and get more done in their day.
As we can see, going to work is not all bad. Now it becomes the responsibility of the employers as well as you to make this transition easier. The following tips can help you with it.
Ensure Workplace and Individual Safety:
The prime concern of most people is still the safety measures related to covid-19. Employers must ensure that their workplaces are as safe as possible. Anticipating and conveying how safety is a key concern to the employees will ease their fears and strengthen the employee-organization trust.
So, explain your return-to-work strategy as well as the risk-mitigation measures you have put in place, such as control, physical separation, cleaning, and hygiene. Affirm your commitment to the most recent government guidance. Specify employee responsibilities, such as the maximum number of people allowed in an elevator or meeting room, cleaning the desks, new rules for utilizing shared facilities such as the kitchen, wearing masks consistently, etc
Start preparing while still at home:
It has been more than a year that we are following a completely different routine since the lockdown. But as now many of us have to think about returning to work, we need to get a new daily routine that will help us with a smoother transition. Following a routine with healthy and timely meals, a consistent sleep schedule, ample amount of physical activity with an adequate amount of me-time can help you release stress and focus more on the positive side of the transition.
Remember Your Feelings are Valid, accept them and seek Help when Needed:
Many of us are eager to return to work as soon as the office reopens, while others are apprehensive even at the thought of returning to work. Your feelings are valid regardless of the group you fall into. We must first accept something before we can cope with it. Accept your feelings of anxiety and overwhelm about returning to work, and don't feel guilty about it. The amount of time it takes to transition varies from person to person. According to a study, the adjustment phase can take anywhere from three weeks to three months. So, whenever you need help, don't be afraid to ask your family, coworkers, or even professional experts.
Employers and the Organization will play the Bigger Role:
When you are the employer, your leadership responsibilities expand. During your company's transition, you'll need to come up with ways to keep your employees motivated and engaged. Be open and honest with them, listen to their worries, and dissatisfaction with empathy. People will assume you know more about new regulations and processes than you probably do, and you may be asked questions for which you have no satisfactory answer. Learning to respond honestly will be crucial to establishing excellent leadership. Allow individuals to grieve the loss of whatever this past season meant to them, no matter how good "next" maybe.
Also, engage your employees in determining how to make the best use of the discretion you've been given. Allow each member to communicate their requirements and preferences, and then charge the team with balancing them within the parameters of what is permissible and possible.
Request Frequent Feedbacks
Throughout the transition time, ask your employees how they are dealing and whether any adjustments are needed to make their return to work easier. Of course, some guidelines must be followed, such as physical separation, but speaking with your employees can allow you to detect and handle any concerns early on, allowing you to keep moving forward.
To summarize, these are trying times for everyone we know and work with, not just us. We may hope for better and try to make a smoother transition for everyone by following a few simple measures and helping each other. We will all be returning to our workplaces in the future, and as a result, we must all be prepared, not fearful or anxious, but simply prepared.