What is the percentage of error in an Online Survey? How does this compare with offline surveys?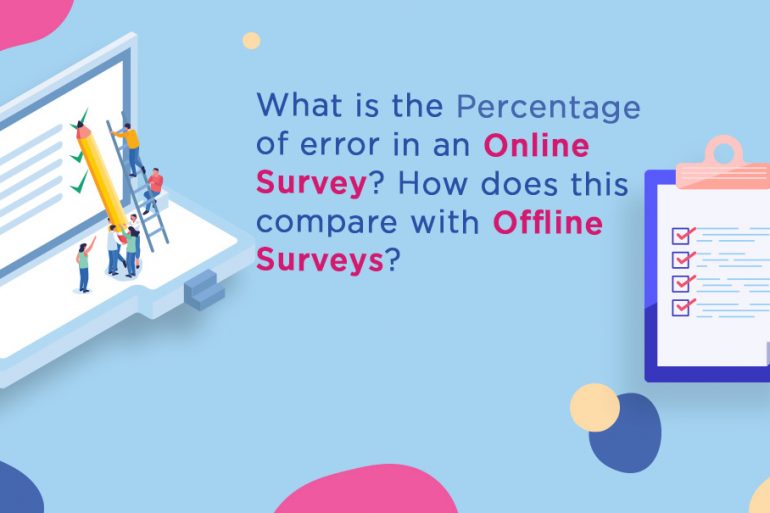 Online and Offline Surveys are two different methodologies of administering questionnaires in a research. The error in research may not only be caused by errors/mistakes while administration of the surveys but also because of sampling error, data processing mistakes and analysis level mistakes. All these errors/mistakes are common to both methods.
So the degree of errors in the two methods can vary only in the errors/mistakes made while administration of the questionnaires. Since the two methods vary very distinctly in their administration, where one is more human dependent and involves face to face interactions between humans, the other is more automated method does not involve any human interaction.
Accordingly the nature of errors/mistakes in the two methods are very different and not directly comparable to each other. It is only in the delivery of the results that the two can be compared – but then
how does one know…?
what is he true picture (result)…? and
which of the 2 methods is giving less accurate results than the other…?
So such an analysis and the error rates of the 2 methods can be compared only when the results are already known completely and accurately which is rarely the case in real life research situations.
Therefore, it is never advisable (not practically possible) to try and compare the results of the online/offline surveys in terms of their error rates. For that matter no two offline surveys (or even two online surveys) will ever give exactly the same results, or are directly comparable on their error rates for any practical purposes.
Read Also: Top 7 Reasons Why Marketing Research is Important to a Business